10/02/2010
Kitted Out

Segontium Rovers Junior Football Club's under 7's team were recently presented with new rain jackets sponsored by Redline Indoor Karting.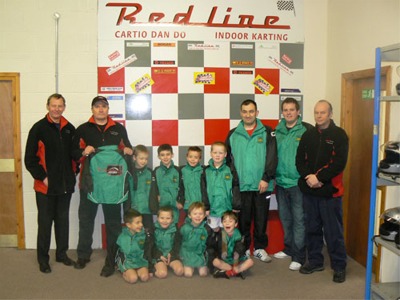 --------------------------------------------------------------------------
Daily Post:
Rally ace David Higgins sets lap time at Redline Karting in Caernarfon
Feb 17 2009 by Tom Simone, Daily Post
ONE of Britain's greatest rally drivers has set a time for all go-kart enthusiasts to try and beat.
David Higgins, four times British Rally Champion, got a lap of 16.90 seconds at the Redline Karting track in Caernarfon.
He was there competing against members of the public as part of a promotional event for the centre.
The showpiece was a 10 lap race against one of North Wales' most promising sporting talents, 12-year-old Luke Hughes from Llysfaen.
David, of Trefeglwys, Mid Wales, just about managed to win and afterward said: "I thought he'd wipe the floor with me – it was a good race!
"I started go-karting when I was 10 against the likes of David Coulthard and it's a good entry into motorsports."
He added: "As well as promoting what goes on at Redline we're looking for sponsors for the British Rally Championship."
Despite his tender age Luke has won a shelf full of trophies: he was 6th in the British Championship in 2007 and last year he moved up to the Minimax class.
He said: "It was great to race against someone like David. My aim this year is to get a top 10 position in the British Championships."
To view the video that accompanies the story, click here.